Taking care of your Tabio socks and tights
When you walk, the weight of your heels is equivalent to 1.8 times your body weight. And there are over 60,000 sweat glands on the soles of your feet. That's why at Tabio we take your feet seriously and only offer items that have passed strict quality tests.
Here are some tips to make your Tabio socks and tights last. By following these tips, you will enjoy your socks and tights for as long as possible!
Basic instructions for washing Tabio socks and tights
The washing instructions for Tabio socks are, in the main, of 2 kinds. Each pair of socks has these instructions on the label.
For most types of socks
in cotton or nylon :
For most socks made from animal materials,
such as
wool or silk, and transparent socks :
Hand wash or machine wash ?
The first symbol indicates washing by hand or on the machine's delicate programme, while the second symbol indicates machine washing on the moderate cycle, at a maximum temperature of 40°C. Tabio recommends washing at 30°C with a spin at 600 rpm. The additional instructions are also very important. Let's take a look at what they mean.
The additional indications are also very important.
Let's look at what they mean.
No professional dry cleaning.
If you do not follow the washing instructions, you risk damaging the fabric.
Remember to check the instructions before washing.


Steps for washing Tabio socks and tights
Here we explain the recommended washing steps one by one.


1. Turn the socks inside out. This is a very important step. The outer material of the sock is often natural, such as cotton, wool, and cashmere, so it is fragile. On the other hand the inner material is often artificial, such as nylon and polyurethane, and therefore more resistant to washing. Turning socks inside out protects the outer material from rubbing and thus makes them last longer.
Prevent smells from remaining after washing...
In addition to stains, sources of unpleasant odours such as sweat and body odour permeate the inside of socks. This is why turning socks is also effective in removing stains and odours that may remain after washing. So by doing this you kill two birds with one stone!
2. Use a mild detergent. Do not use bleach or chlorine detergent.
3. Wash dark and light colours separately to avoid colour transfer.
4. Machine wash with water under 40 degrees and on the delicate programme or by hand as directed.
For hand washing, we recommend washing with light and gentle pressure.
5. Dry in the open air and in the shade. Avoid using the tumble dryer. And for wool and silk products, we advise you to dry them flat to keep their perfect shape.
For other models, it is recommended to suspend them from the top by placing the clothes peg at the level of the elastic band, to avoid water staying on this part, which could lead to faster degradation of the polyurethane threads.
Washing net
The washing net protects clothes from rubbing and stretching, preventing them from rolling up. It is particularly recommended for lace, transparent and delicate items, so that they do not deteriorate when in contact with other garments that may have hooks and zips.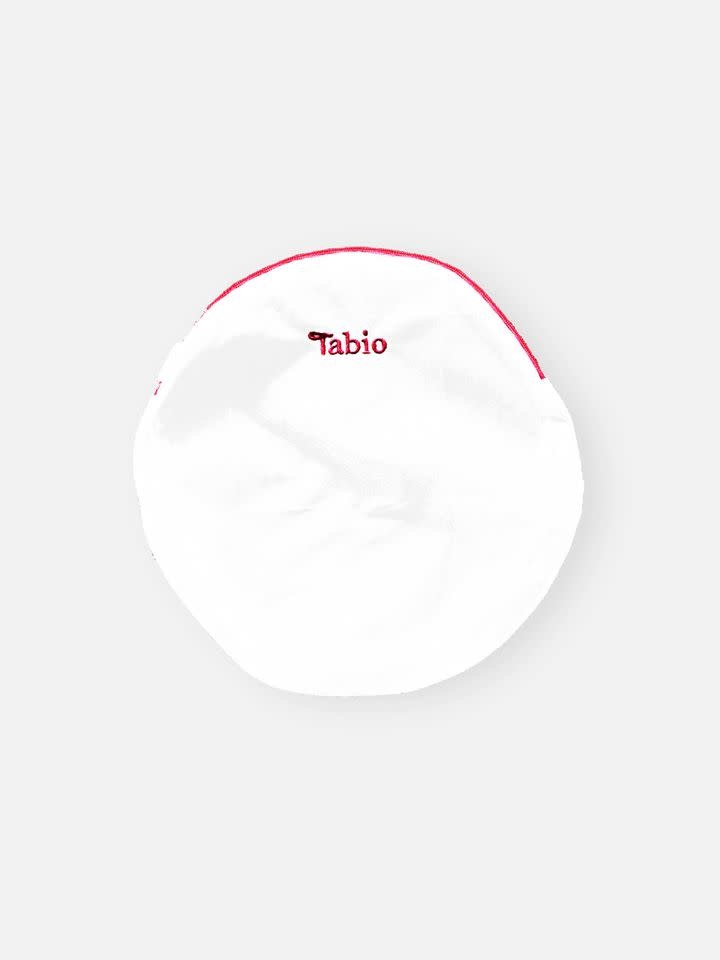 Size: 23 x 23 x 5cm (réf.041000010)
So here are the little tips for washing your Tabio socks and tights.
Find your favourite socks and tights at Tabio, and take good care of them so they last a long time!