To learn more about the socks
Anatomy of socks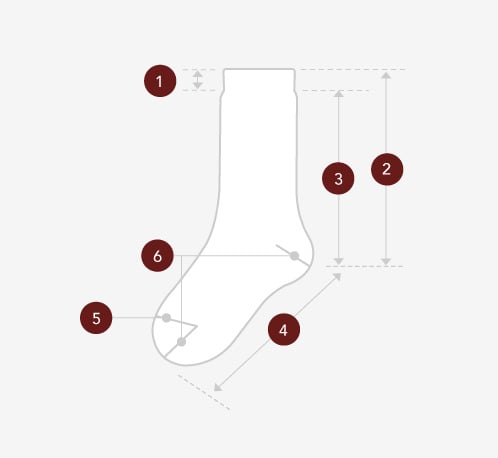 1

Elastic top

The section from the elastic rim to the start of the leg section.

2

Body

The section between the heel and the heel

3

"Leg"

The section from the end of the elastic top to the top of the heel.

4

Sole

The section from the end of the heel to the linking; the section below the gore line that connects the heel to the end of the toe.

5

Linking / Rosso

The seam of the toe. There are two ways of connecting the toe part.

6

"Gore line"

The line that forms the section from the heel to the toe. The knitting switches to a semi-circle movement to create the shape of the heel.
Lengths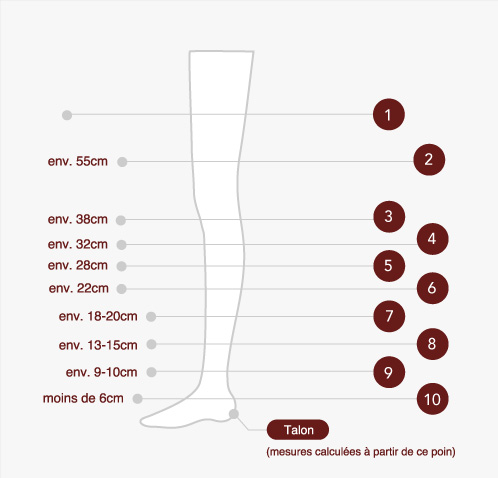 1

CB

Chaussette bas / Thigh High

2

CL

Chaussette longue / Over The Knees

3

CH

Chaussette haute / High Socks, Knee High

4

CBT

Chaussette botte / Boot Socks

5

CMH

Chaussette mi-haute / High Cut

6

3/4L

Chaussette 3/4 long / Three Quarter Sleek

7

MC

Mi-chaussette / Crew

8

CB

Chaussette basse / Low Crew

9

SQ

Socquette / Anklet

10

CC

Chaussette courte / Trainer, Sneaker
*Long socks are also called "Parisiennes"..
Knitting gauge



Main materials used for socks
Cotton/acrylic blend

Thanks to the cotton/acrylic blend, the fabric remains soft after washing.

Cotton/polyester blend

The polyester blend allows the cotton to keep its shape and prevents it from shrinking in the wash.

Cotton/linen blend

The addition of cotton to linen makes it softer and more elastic.

Wool/acrylic blend

The wool/acrylic blend gives a fabric that is warm, soft and strong, and absorbs perspiration well.

Wool/nylon blend

Wool/nylon blend increases the life of the product and makes it easier to wash.

Fur/synthetic blend

The use of pure natural materials such as angora, mohair or cashmere are difficult in themselves. The addition of wool or a synthetic fibre facilitates the weaving and the fit of the garment.

Silk filament

Raw silk thread extracted directly from the cocoons of silkworms consists of the highest quality yarn.

The silk boulette

This yarn is obtained by weaving the remaining silk threads after spinning the filament.
Description of materials [ Natural fibres ]
COTTON

Characteristics
A fluffy fibre that grows around the cotton seed. This fibre is spun to produce a yarn that will make a light and airy fabric. Highly absorbent, cotton can hold 24-27 times its weight in water and is more resilient when wet.
Advantages
It withstands very high washing temperatures, absorbs and releases perspiration quickly allowing the fabric to breathe. It is a strong and durable fabric that is highly resistant to abrasion.

LINEN

Characteristics
It is a fabric made from the fibres of the flax plant. Linen is one of the strongest plant fibres and is 2 to 3 times stronger than cotton.
Advantages
Linen is a good conductor of heat, has a high absorption capacity and is cool to the touch. On the other hand, it is not very elastic and creases easily.

LAMB'S WOOL

Characteristics
Lamb's wool comes from young animals (6-7 month old lambs) and is characterised by a short hair.
Advantages
Softer than sheep's wool, it is warm and pleasant on the skin. This wool is very durable, does not wrinkle and absorbs moisture very well.

SILK

Characteristics
Silk is a natural fibre from China that is soft and smooth but does not slip. It is one of the strongest natural fibres, but loses 20% of its strength when wet. Silk has a medium to low elasticity and is sometimes replaced by rayon, which is less expensive.
Silk is particularly pleasant and shiny, very comfortable and extremely soft on the skin.

ANGORA

Characteristics
This fibre, which comes from rabbit hair, is fragile, has low elasticity and strength, which makes it difficult to colour. Angora fibre is hollow, which explains its floating appearance.
Advantages
Gentle on the skin and warm, this fibre is renowned for its silky texture.

CASHMERE

Characteristics
An animal fibre from the goat raised in the mountains of Kashmir, this wool tends to pilling and attract moths. It is very delicate to care for and cashmere garments are best stored flat.
Advantages
Fine in texture, light and soft, this fibre is also very hardwearing and can last a long time if cared for properly.

TENSHO MINERAL FIBRE

Tensho fibre is a natural fibre of mineral origin made from stone from the southern region of Japan. It has remarkable heat-generating properties thanks to the infrared rays naturally emitted by this stone.
Material description [ Artificial/Synthetic fibers ]
ACRYLIC

Characteristics
This fabric wrinkles easily and tends to pilling.
Advantages
Durable, acrylic is unaffected by grease or chemical compounds and is highly UV resistant. It is also light, soft and warm.

NYLON

Characteristics
Nylon is highly elastic and has enabled the development of easy-care materials. Highly resistant to abrasion and chemical compounds, nylon is easily coloured.
Benefits
Bright and lightweight, it is comfortable and soft.

POLYESTER

Characteristics
Polyester fabrics have several advantages over natural fibres. They are more durable, retain colours better and are difficult to crease. Polyester fibres are sometimes blended with natural fibres to produce a fabric with mixed properties.
Advantages
In contrast to plant-based fibres, synthetic fibres provide materials that are more resistant to water, wind or specific environmental conditions.

VISCOSE/RAYON

Rayon is a chemically recomposed cellulosic fibre. Produced from natural polymers, rayon is a semi-synthetic or artificial material. Also known as "artificial silk" or "viscose" in the textile industry, rayon is very shiny and gives the fabric a glossy appearance.

CUPRA

Cupra is a new fibre obtained from a process similar to that of rayon and composed of cellulose.

ACETATE

Acetate is an artificial or synthetic fibre with an extremely silky appearance. It dries quickly and absorbs moisture very well. Most fabrics made of acetate need to be dry cleaned. Acetate is usually used for clothing and home furnishings.

POLYURETHANE

Characteristics
Highly elastic, polyurethane is the lightest of all fibres and produces a very fine yarn.
Advantages
This material is very resistant, especially to UV, heat and chemical compounds.
Washing socks
Please refer to the label. Hang them in a ventilated area by the elastic band.
Machine wash

- Maximum temperature 40°
- Delicate cycle, maximum temperature 40°
- Delicate cycle, maximum temperature 30°

Hand wash

- Hand wash, maximum temperature 30° with suitable detergent
Blanching

.
- Use a mild detergent
.
- Do not use a chlorine-based bleach

Spinning

- Squeeze carefully
- Do not spin socks too hard

Drying

- Make them dry in the shade
For more information on washing, we invite you to read this page, « ».