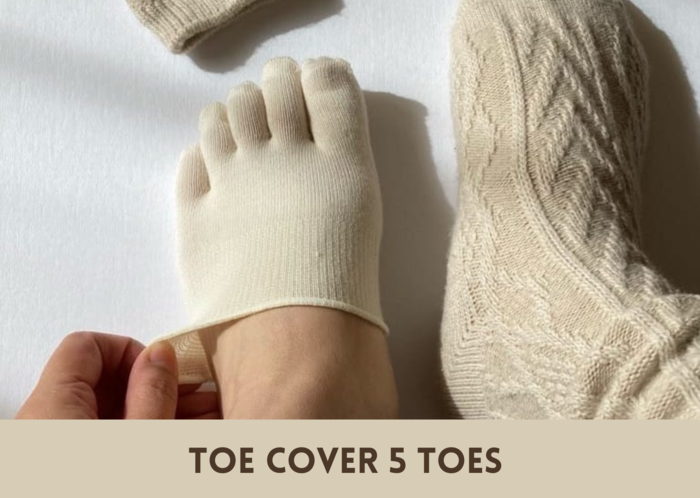 The unseen savior
Have you ever had the feeling that even when you wear warm socks, your feet stay cold?
Many people suffer in winter, for example with Raynaud's disorder. This is a temporary blood circulation disorder that affects the small arteries, mainly the fingers, toes and sometimes the nose and ears. Five-toed half-socks made of suitable materials are useful to relieve this painful discomfort.
Five finger wool half socks
Made of 78% merino wool, our wool half-socks are soft and cosy and won't sting your feet. A real winter ally, they can also be worn in mid-season when the humidity and air conditioning cool the rooms.
Made from high quality yarn, the socks have a thin fabric and the toe area is knitted. Worn underneath socks, tights or inner socks, you can layer without feeling tight.
Particularly recommended for people suffering from cold and frostbite, we recommend wearing half-socks under socks made of natural fibers with more than 50% wool, silk or cashmere to guarantee a real barrier to the cold.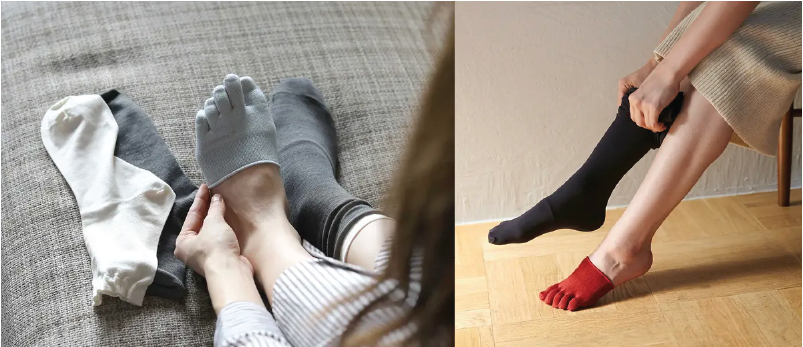 Silk five-finger half-socks
Did you know that your feet sweat the equivalent of one and a half cups a day?
If our feet are sometimes wet and cold, it is because of this painful sweat that does not evaporate.
Five-toe half-socks are also recommended to eliminate this unpleasant feeling. By wrapping each toe individually, their absorbent and adsorbent properties help to prevent moisture and keep the skin feeling dry. Thin and shiny, they also have a deodorant function that helps prevent bad smells.

Study carried out on fifteen women
Under the supervision and control of Associate Professor Adachi of the University of Tsukuba, an experiment was conducted to verify the effectiveness of the "heating effect" of our half-socks.
Fifteen women who all work in offices were divided into two teams. For six hours, Team A wore only high socks, while Team B wore five-toed woolen half-socks under their high socks. Using a thermal camera, we examined the before and after.
The results of the experiment showed a considerable average increase of +3.1°C for Team B, with the temperature rising after two hours.
In contrast, the A-team only gained 0.6°C and the foot temperature even dropped after two hours of wearing.
The five-toe half-socks are therefore effective in increasing the temperature of the feet by stimulating blood circulation.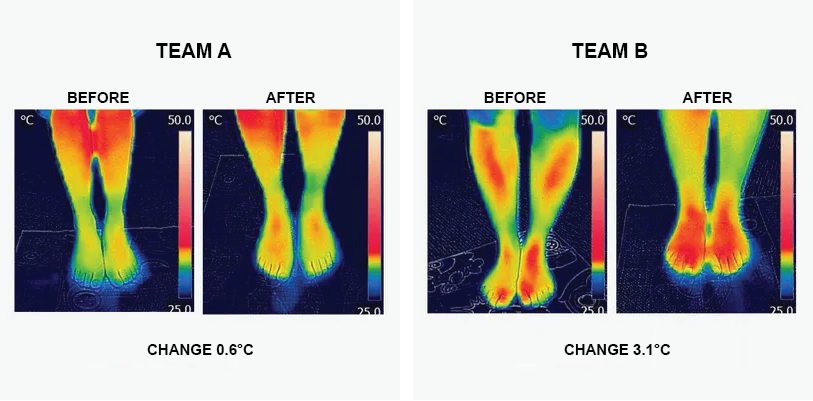 A choice of two different materials
Warm up your feet by adding our toe socks to your socks. A new technology to support the cold and spend a winter without worries. Both products are available in 3 colors.
Be the first to comment...