For a wedding as for work, it is important to make a good impression in your suit. An elegant man should also know the basic rules for choosing his socks: colour, height, thickness, material, everything is important !
The suit sock, what every man should know
For a wedding as for work, it is important to make a good impression in your suit. An elegant man must know the basic rules for choosing his socks: colour, height, thickness, material, everything is important ! The rules of male elegance will no longer hold any secrets for you.
Men's fashion also has its codes and rules that a stylish man needs to know.
One of the main rules you should remember about socks is that the calf should always be covered. When you cross your legs, not an inch of skin should be visible. It is considered "highly inappropriate" for a man to expose his shins in a suit. It is essential to choose long socks that will not show your skin when you cross your legs or squat.
This also gives the sock a better fit and you no longer have to worry about your socks slipping off and wrinkling awkwardly.
In terms of material, fine gauge knitted socks are the best choice to match leather shoes. For spring and late summer, cotton-based models are preferred, while for autumn and winter, fine-gauge merino wool and silk models are the most suitable.
The 100% cotton mercerised yarn material has the advantage of a nice clean shiny finish and an unforgettable comfort and softness. Our 100% cotton is the Japanese equivalent of Scotch yarn, which it matches in quality and softness. Cotton is a natural material that is suitable even for sensitive skin and heavy perspiration. For optimum comfort, this model is hand-knit, which means that the seam on the toe is flat and smooth.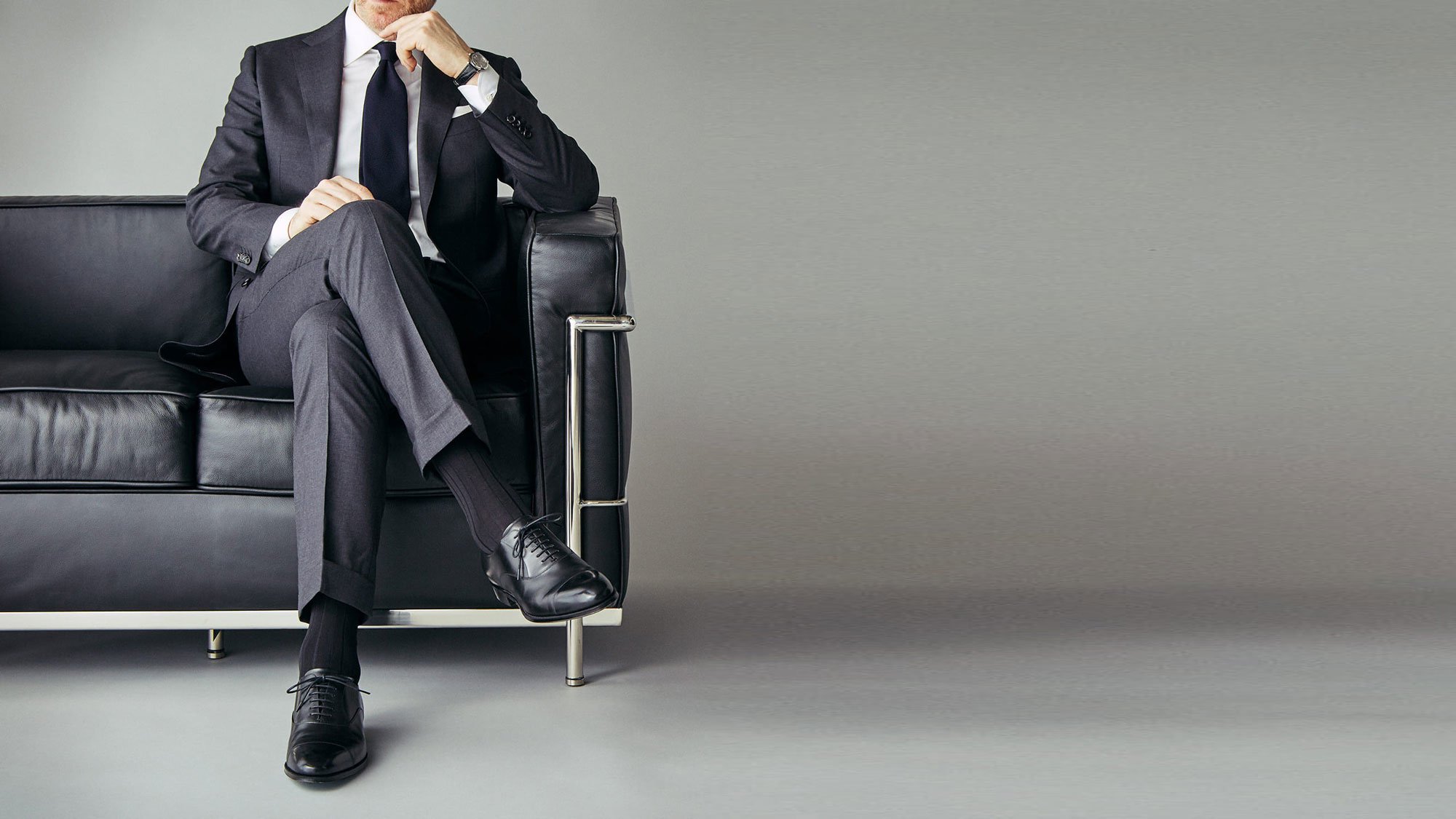 So, "How to choose your socks ?"
This is one of the most common questions we get from business people. You may know that white socks are not appropriate for business suits. You probably also know that sports socks with a brand logo are not appropriate.
If you consider that the basic principle of professional clothing is to "look trustworthy", the colour you choose will naturally be a determining factor. Blue socks are the right choice for a navy blue suit, and black socks are also the right choice if your suit is dark navy blue or a charcoal grey that is almost black.
To look sophisticated and fashionable, you can accentuate your feet with colourful socks. In this case, you should choose shoes with a simple design to keep the balance.


What colour to choose for a wedding ?
Weddings remain for many men one of the rare occasions to wear a suit. We want to do well without always having the dress codes. Although the fashion in 2021 is for cropped trousers, or even 3/4 length trousers associated with loafers, the majority of men will still opt for the timeless richelieu shoes. For a timeless look, we opt for a high sock in smooth black cotton to associate with a black suit that we will reserve for religious ceremonies. Black has the advantage of lengthening the leg and slimming the silhouette. If you can afford a touch of originality, then it will be clever to match the colour of your socks to that of your clutch, the flowers on your buttonhole or your tie/bow. Summer weddings are no exception to the previous rules, the calf is covered and white remains in the wardrobe !
At the request of our customers, the Tabio workshops in Japan have designed exclusively for France a model of 100% cotton high socks. This mid-sock height is better suited to a professional environment and its fit provides a certain comfort.


Our suggestions by colour
The colours of the Tabio socks have been designed to go well with all types of suits and shoes.
There are two schools of thought when it comes to matching colours: those who match the sock to the shoe and those who match it to the trousers.
The dark green


is complementary to red and is ideal for mahogany shoes. To match a brown suit, think of cool, deep colours such as this green or the blue colour. For grey-beige trousers, this colour is also perfect. This dark green brings a discreet touch of light to a darker outfit while remaining sober and classic.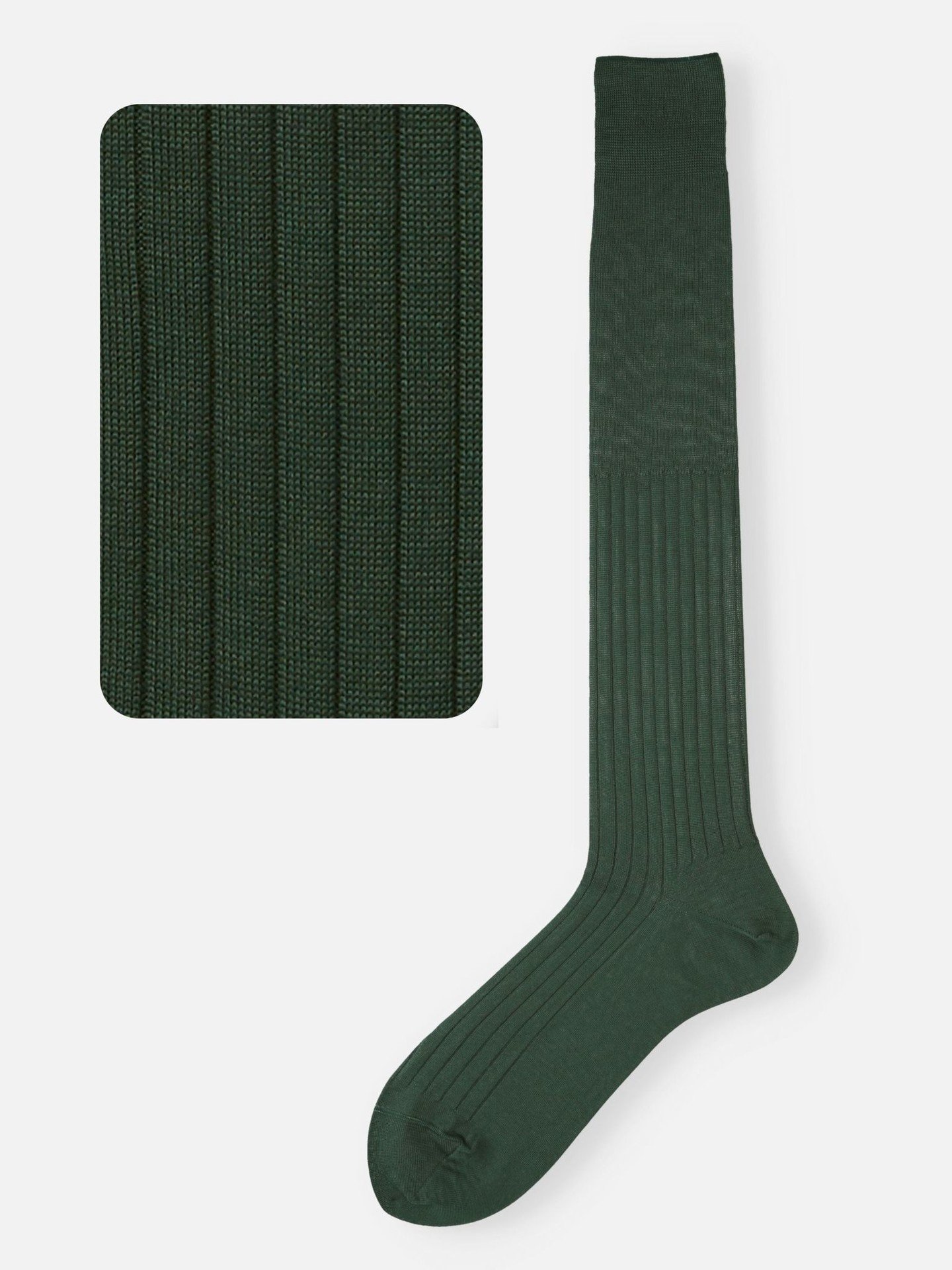 The red


is one of our two brightest colours in this top model. It's best used to create a contrasting effect and to highlight a nice pair of well-polished black shoes. The red will be perfect with a charcoal grey suit or a dark blue. One thing is certain, red socks will never go unnoticed, no matter what colour the suit is. Combining the sock with the colour of a clutch bag or tie will have the greatest effect.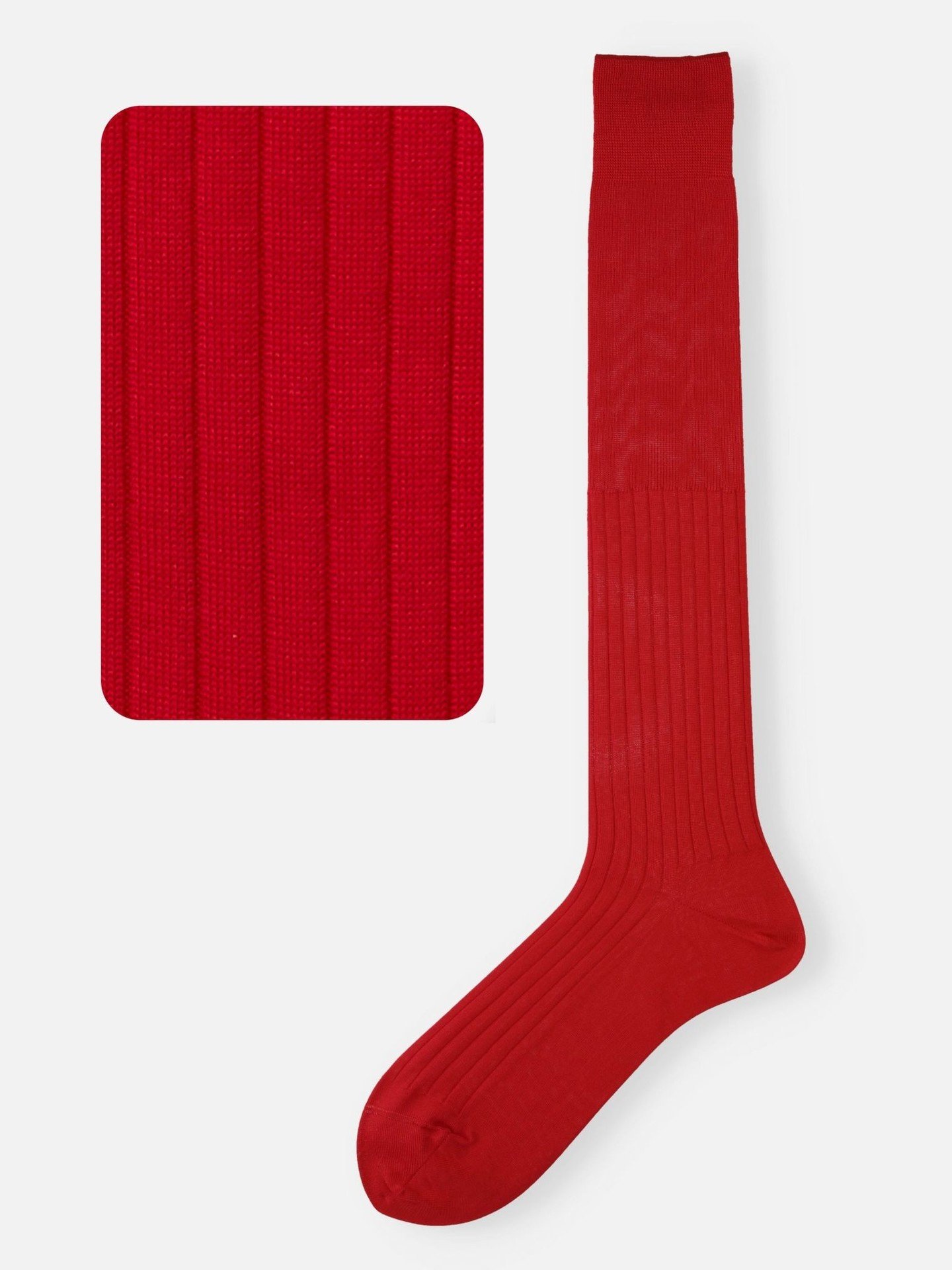 The royal Blue


A proud colour for a man of character. Blue being a cool colour, it goes well with a slate grey, silver or blue-grey suit. Why not also combine it with mottled trousers, for example, or tweed with blue accents. Brown or black shoes are perfect.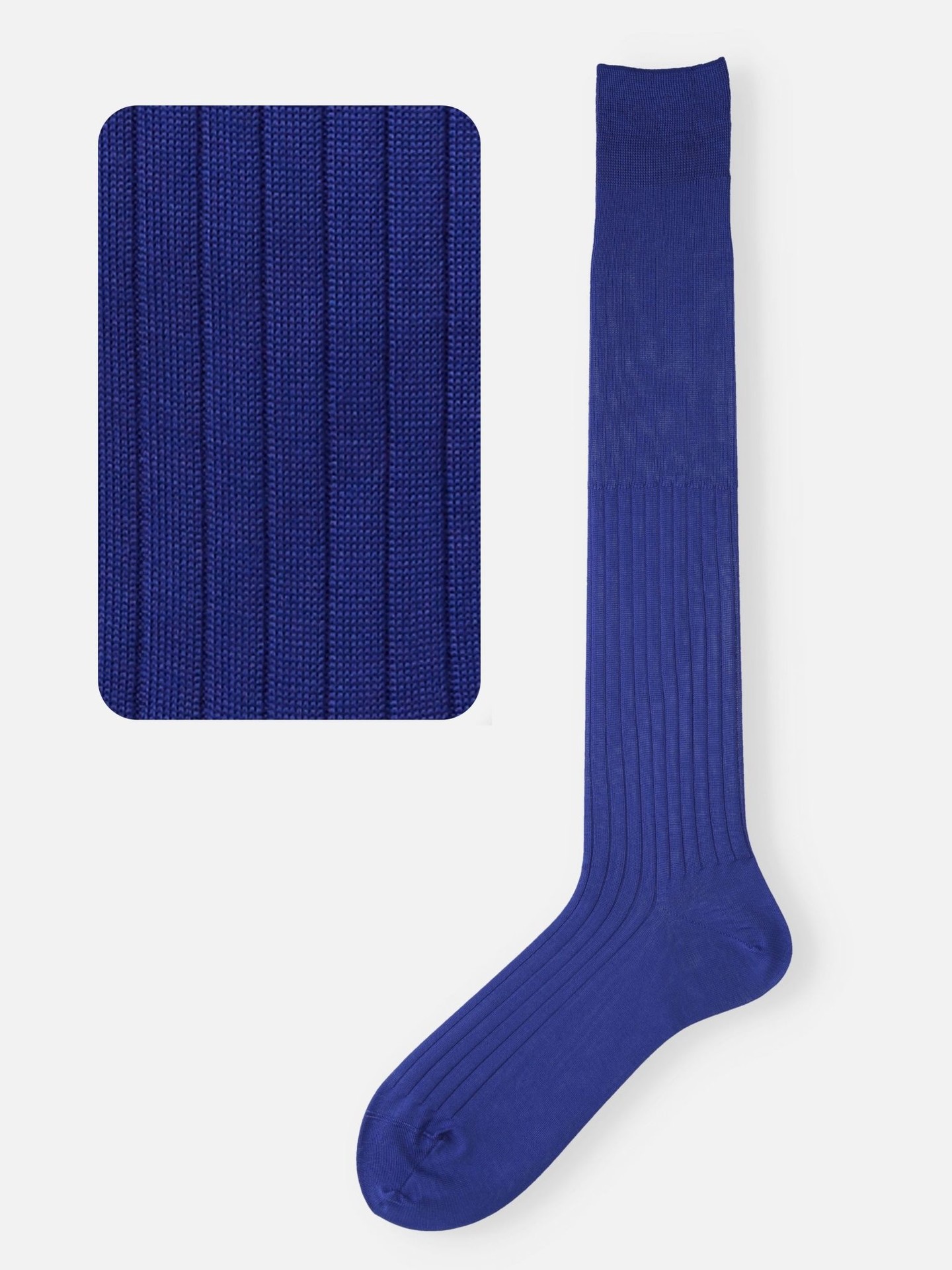 The Black


An elegant and sober must-have. Perfect for pairing with a patterned suit like a Prince of Wales or a colourful ensemble. The focus will be on your clothes and the accessories won't distract from the pattern. Black socks are also recommended for pairing with shoes of the same colour to lengthen the leg. When in doubt, always opt for black, so it's a good idea to always have a pair in good condition in your wardrobe.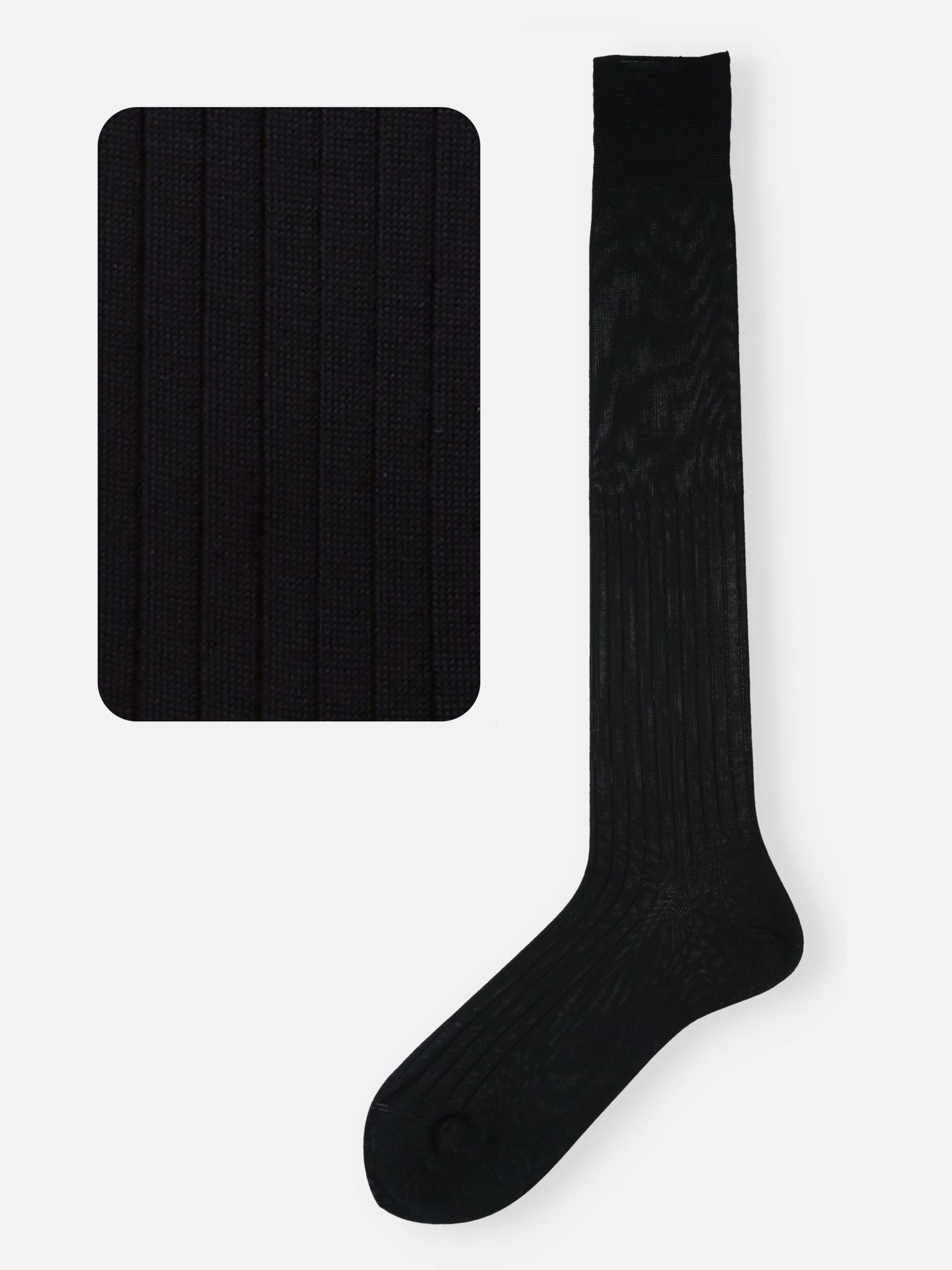 Night Blue


You might think it's black, but it's not. Such a dark blue avoids what some people consider a lapse in taste: pairing brown with black. For your brown shoes, it will be more elegant to combine a midnight blue sock. It's an all-purpose colour that will suit all your trousers, from beige to grey, black, burgundy and brown.


This top model favours the fineness and elegance of cotton. A must-have for all men who want a sock that stays in place and gives them the image of a man who takes care of himself and his outfit. There is no room for error.


Some basic rules to avoid making any mistakes:
---
Conclusion
It goes without saying that fashion evolves and that rules are made to be bent. However, we agree that a chic man masters the basics while knowing how to break the rules he has learned to make an outfit his own. Make sure you choose a good material and a suitable length. As for the colour, perhaps this is where your creativity can shine through !